Harley Quinn has had a few different looks through the years. To make a kids Harley Quinn costume simple, it's best to choose from 1 of 2 things.
Your child can either go for the classic black and red or the blue and red costume from Suicide Squad.
Whichever one you choose (or your child chooses) makes buying or making a child's Harley Quinn Halloween costume an easier one.
GallyKids.com is a participant in the Amazon Services LLC Associates Program, an affiliate advertising program designed to provide a means for sites to earn advertising fees by advertising and linking to Amazon. This means we get a commission for any qualifying purchases. Tnx.
The Blue And Red Harley Quinn Suicide Squad Costumes For Kids
It's not easy to find the Harley Quinn suicide squad costume with children sizes. This is a costume you may have to mix and match from a few things you have at home and a few things you can buy too.
Here are some ideas on how to make this version of a Harley Quinn costume for kids.
Harley Quinn DIY Costume For Kids
Harley Quinn Shirt: The Daddy's Lil Monster T-shirt
It's not easy to find a Daddy's Little Monster shirt for kids. Sometimes, you'll find some nicely made ones on Etsy or Ebay, so you can check it there first.
The good news is you can easily make this yourself.
All you need is a white shirt, some patience and a little bit of creativity.
You can start with any white shirt that your child already owns or you can have a white shirt with red sleeves to make this DIY costume even easier.
Here's the type of shirt I'm talking about here.
So what do you do when you have this shirt?
You now need to print the words "Daddy's lil Monster" on the front. Here are some tips to do this:
Find an image with these words. Print it.
Use this image as a template for the shirt. The two videos below show two different ways to do this. The first way is to cut the dark bits on the words with a scalpel and then paint the shirt using this template. The second one (which I prefer) is simply by tracing the words on the shirt using a table lamp. Make sure you watch the videos for exact details on how to do these.
Note: If you can't find an image with the words, use this free font to print the words on you computer.
How To Make A Harley Quinn Suicide Squad Shirt
This video tutorial starts with a white shirt. So if that's what you have, you can follow the instructions here. I think printing the words seem to take a long time though. If you want a different way to do this, watch the second video.
Here's the first video that details how to make this shirt.
You can also buy ready-made Suicide Squad shirts for kids.
No products found.
Kids Harley Quinn Shorts, Leggings, Or Skirt
Now you need to make a choice. Which one do you want for the bottom part of this Harley Quinn costume for children?
Ideally, you want one that has a red and blue color combination just like Harley Quinn's. Below are some ideas, tips and tutorial on how to do this.
Blue and Red Harley Quinn Shorts For Kids
If you can sew and have the patience to make this, then watch the tutorial below by E-vic Taylor on how to make this Harley Quinn shorts. What you need are blue and red fabric, your child's shorts for the template and a sewing machine.
The end-product looks pretty cool.
Fabric Tip: For the fabric, you can use a plain blue and red spandex which you can buy here.
Now if you would rather buy this, I've found this shorts with good customer rating. And the good thing is that it has children sizes! Here's what it looks like:
Video: How To Make Harley Quinn Red and Blue Shorts
Harley Quinn Leggings For Kids
Wearing a Harley Quinn leggings is a good choice especially if it's cold where you are on Halloween.
Below is a tutorial by Emonk on how to make this. She starts with a pair of red leggings, dye and sharpies! Yes, sharpies!
Note: In this tutorial, she makes the black and red costume. So if you're doing this Suicide Squad version, switch the black for blue.
This is an easy one to make but it does look very tedious. 🙂
Harley Quinn Tutu Skirt
Of all the three choices you have, the tutu skirt is the easiest one to make. All you need are blue and red tulle fabric which you can find at a reasonable price on Amazon.
You can do this without a sewing machine.
Below is a video tutorial on how to make a no-sew tutu.
In your version, when you make it, simply make half of the skirt red, and the other blue! Easy peasy!
Don't Feel Like Making It Yourself?
Here are some blue and red Harley Quinn costumes (or parts of it) that you can buy on Amazon. Just in case, you don't feel like making it yourself!
Lastly, complete the look with some accessories
Harley Quinn Wig and Makeup
It might not be easy to find a Harley Quinn wig that fits your child.
The easiest way to do this is to use hair spray.
If your child has blond hair, then you're halfway there to Harley Quinn's hair. If your child has dark hair, the best thing you can do is to get a blond wig and use hair spray to get the look.
Below is a tutorial on Harley Quinn Suicide Squad makeup and hair.
After this, put your makeup skills to the test for the makeup.
You can also add temporary tattoos!
Harley Quinn's Bat
To complete this look, have your child carry a baseball bat. Any bat that you have lying around the house should be adequate. You can also buy one that look very similar to the one in the movie.
Temporary Tattoos
You might want to get some temporary tattoos too!
For footwear, wear black boots and knee-high red socks.
The Black and Red Harley Quinn Costumes For Girls
If you're looking for a Harley Quinn costume kit, costumes in black and red are more plentiful so you're in luck!
You can find many different designs of this costume, but here are three of the top-rated ones:
Official DC Superhero Girls Costume: Harley Quinn
This is a complete set. It already includes the top and shorts with attached leggings plus the accessories which are the mask, hair pieces, belt and wrist band.
Your child only needs to add her own pair of black boots and she's ready to go out for Halloween. Easy peasy lemon squeezy.
Sizes available: small, medium, large and extra large
Shop at:
Harley Quinn Costume For Girls With Tutu Dress
A tutu skirt or dress is the sure-fire way to make a cute Halloween costume. The good news is that it's very easy to make one yourself. All you need are strips of tulle fabric and a ribbon or elastic band for the waist and you're done (scroll below for the tutorial on how to make a tutu dress.)
However, if you don't have the time or inclination to do this, here's a Harley Quinn costume for girls with a tutu skirt.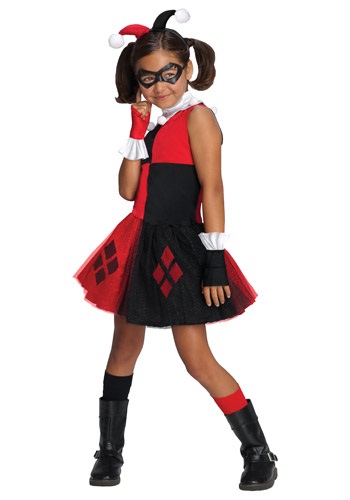 Girls Harley Quinn Tutu Costume
from: HalloweenCostumes.com
What I like most about this costume is that it has a toddler size which is not often easy to find in the many Harley Quinn outfit for sale.
This costume includes the dress, headpiece, eye mask, glovelets (?).
Where to buy:
Amazon (doesn't have toddler size)
Harley Quinn Costume For Toddlers and Babies
The Harley Quinn tutu costume have has toddler sizes. Here's another one that looks so cute.
It's a onesie with a tutu attached to it. The front has diamond prints as well as a jester crown. It also has a very adorable red bow.
This is especially made for babies and toddlers and has sizes starting 0-3 months up to 2 years old.
Harley Quinn Jumpsuit for Toddlers : 18 – 24 Months
And if you're looking for a small one that fits little toddlers, you'll be happy to know that there is a baby romper made for 18 – 24 months.
And how cute is this?
It's a special costume made of cotton that isn't only for Halloween but can be worn every day for both indoor and outdoor play. You can buy this on Amazon
Harley Quinn Costumes For Tweens and Teens
And if you're looking for a Harley Quinn dress for tweens and teens, here's a costume that's made for this size.
It looks different from the other costumes above, yet not TOO sexy as many of the costumes for adults.
This costume includes the dress, leggings, eye mask, hair piece and glovelets.
Harley Quinn Kids Jumpsuit Costume
A one-piece costume that has everything need to look like Joker's Harley Quinn. This is a unique take on the look and an easy one for kids to wear trick or treating or school Halloween parties.
This is a complete kit which includes the jumpsuit, white collar, shoe covers, eye mask, headpiece and gloves.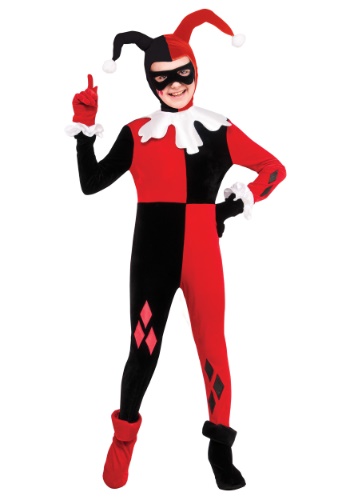 Child Harley Quinn Jumpsuit Costume
Where to buy (seems to run out quickly so you may have to check both sites to see which one has the size you need)
Harley Quinn Outfit for Kids: Costume Or Daily Wear!
If you don't like any of the ready-made black and red Harley Quinn costumes, you can still do this look by mixing and matching a few things together for that classic Harley Quinn kids costume.
For this costume, apart from the colors, also make sure that you include Harley Quinn's diamonds trademark.
Harley Quinn Hoodie Shirt & Leggings
Much like the red and blue costume above, this Harley Quinn costume centers around wearing a black and red diamond shirt.
You can then add either a pair of leggings or shorts of the same color.
Also, you can use a tutu skirt instead of the leggings. This tutu you can easily make. Simply follow the video instructions above but use blue and black tulle fabric instead.
The Socks
If your child wears a tutu or a dress, a pair of diamond socks does a good job of putting the costume together.
There are even socks with jester accessory on them!
Then pair these up with a pair of black boots and you give the costume a nice finish!
And don't forget the accessories!
They may only be accessories, but they play a big part in making this costume.
So what sort of "extra" things can you add to this costume to give it a bit of flourish?
Some things that you can add are a mask, wig with black and red ribbon, and a pair of gloves or gauntlet!
Note on Sizing
I understand that many of you are looking for toddler sizes such as 2T, 3T or 4T. Many of these costumes do not have this clearly stated. However, the sizes are clearly shown in measurements on each page, so that should best guide you as to which size to buy. Here are a few other things to take note of:
Reading customer reviews for each costume should also help you gauge whether it is true to size or not.
Manufacturers don't have a generic guide to sizing and may use their own measurements, so always look at the measurement guide for each brand if you're not sure.
If your child is on the upper range of the measurement guide, it's usually best to go a size higher.
If you're still confused on sizing, click here for more details
Related Posts