You can easily make your own science kits for kindergarteners using materials you have in the kitchen.
But sometimes it's a relief to have all the materials ready whenever you need it —instead of scrambling around for that material you may or may not have at home.
I've scoured the web to find some of the coolest kindergarten science kits that are perfect for this age. I've included kits for some of the most popular activities like the volcano eruption kit as well as others kits for other science projects that are just as fun.
Kindergarten Science Kits for Fun Science Experiments at Home
I'm a big fan of the kindergarten science kits from Green Kids Crafts. They're very well thought-of and packaged together. Each kit contains age-appropriate material and experiments that kindergarteners can do with just a little bit of adult supervision.
The monthly subscriptions are great value for money. But you can also buy individual science kits if you don't want to subscribe. I love that the kits usually revolved around a specific science theme.
Here are four kindergarten science kits from Green Kids Crafts:
Popular science kits for kindergarteners
Exploding Volcano Science Kits
An exploding volcano experiment: This is one of the most popular science activity for kindergarten age kids. All you need are vinegar and baking soda and you can "recreate" an exploding volcano right in your own kitchen.
So why buy a kit when you can easily get all the materials in the kitchen?
When you buy a volcano science kit, you also get a volcano toy which helps set up the "explosion". It's all part of pretend play. Yes, it's really just vinegar and baking soda reacting. But having a pretend volcano makes it more exciting for kids.
Also, the volcano kits for sale usually include other science activities. So you're really getting toys that you can use for other science projects with your kindergartener.
Below are two exploding volcano science kits, each with different materials for different projects.
Adventure Town Toys 6 Science Experiments
This science kit has all the material you need for 6 different types of activities. The activities explore chemistry as well as detective and spy activities.
The kit ONLY includes the science toys for the projects like a rocket, volcano, fingerprint record sheets, digital clocks and instruction booklet. You will need to supply the household items for each experiment.
These household items includes things like dish soap, sugar, vinegar and more.
Volcanoes Craft Box
The volcanoes craft box is a highly-rated kindergarten science kit. The box is complete with everything you need to do the following four experiments:
Break your own geode kit
Volcano Splatter Art Kit
Exploding DIY Volcano
Crystal Making Kit
Unlike the 6-in-1 Adventure Town science kit, you don't have to supply anything to get the project going. Everything you need to conduct the experiments are already included in this Volcanoes Craft Box (shown below).
Here's what one mom says about the Volcanoes craft box

Volcanoes Craft Box
Click Here to Know more
DIY Slime Kit
You may have seen kids on YouTube making their own slime. It's fun and easy to make. Kids feel like making slime is all fun and games but it also teaches them some Chemistry concepts. And y'all know that kids learn better when they're having fun.
If you want to make your own DIY Slime kit, you'll need:
PVA school glue
an activator like borax, boric acid or baking soda
contact lens solutions
optional: beads, glitter, Coloring
4 Slime in 1 Chemistry Science kit
This Slime lab kit already includes everything a child needs to make 4 types of slime:
a black chalkboard slime that they can doodle on
glow in the dark slime
Fluffy fish & glow worm slimes
alternative slime using conditioner & gelatin

Slime Lab Box
My First Dino Kit
Do you have a kindergartener who loves dinosaurs? This dinosaur activity kit is a fun STEAM-focused science kit for future paleontologists.
The First Dino Kit is a perfect way to combine that fascination with dinosaurs with a science activity. My son got a similar dinosaur digging kit when he was 6 and he was he ecstatic when he saw it. It also kept us him busy for a while.
Monthly Science Kits For Kindergarten
Imagine a monthly supply of science kits. Everything's already made for you. You don't have to burn any mental energy in deciding what science experiment to do next.
You get a regular supply of material and instructions every month. And your child will learn a few STEM concepts monthly. This is what you get with the Green Kids Crafts monthly science kit subscription (click here to know more).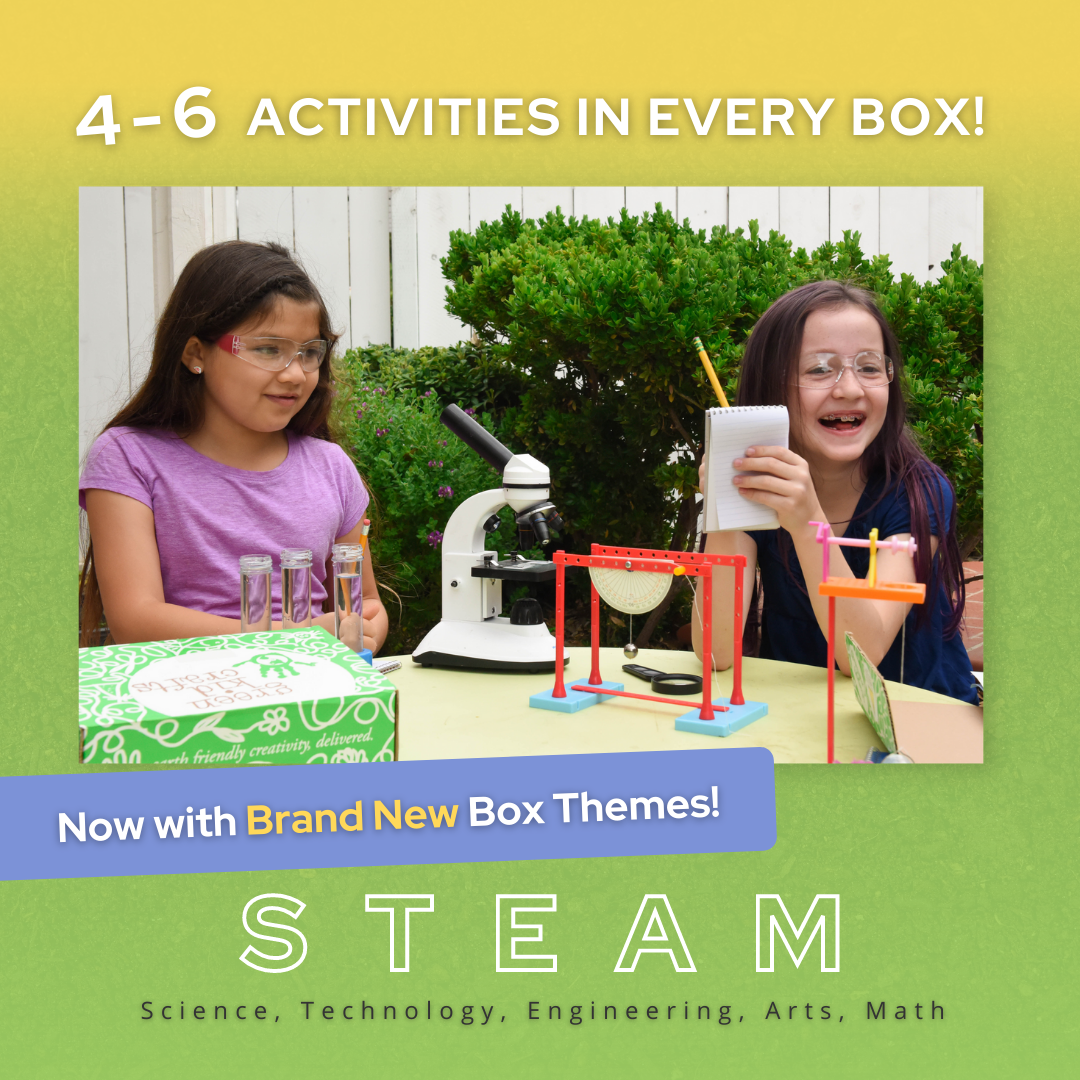 STEM Kits for Kindergarten for More Fun Science Experiments at Home
Amazon is also a great place to find STEM kits for kindergarten. Below are three that I like.
2022-08-08
Cubelets Robotic Kit
Do you sometimes feel that your child needs to learn the concept of building robots as early as possible? I have!
The problem with many robot kits though is that they are not suitable for very young kids.
Until Cubelets by Modular Robotics made them.
Cubelets easily snap to each other to make different kinds of robots. It's a way to learn about robotic technology in a very easy and fun way.
Watch the video below to see what it's all about.
Learning Resources Primary Science Lab Set
Many science kits are not really suitable for very young kids. This is an exception
The Learning Resources Primary Science Lab Set contains many things that preschoolers need to make their own science experiments at home.
Some handy science materials that you will be using as the kids grow older.
Apart from the materials, it also has clearly written instructions for science experiments that little kids can easily recreate at home.
The box includes:
Beaker
Magnifying glass
Funnel
Eyedropper
Flask
Tweezers
Goggles
Large 6" test tube and stand
2 small test tubes and stand
Activity Guide
10 double-sided Activity Cards
2022-08-08
Science Crafts for Kindergarten: STEAM for Kids
Here at Gally Kids, we value the the ARTS as much as we value science. As this Forbes article says, arts is vital to the study of science. It says:
"…introducing art as a way to study science would not only allow students to understand the core of science is creativity, but it will also allow them to better learn scientific concepts and rules.
With that said, here are some kindergarten craft activities to help solidify scientific knowledge for kids this age.
Art Lab Discovery Box
Let your child appreciate different types of art form with this Art Lab box. The easy-to-follow instructions teaches your child to make:
make Batik art (the ancient art form of wax-resist dyeing)
pulled yarn painting
scribble and salt painting lessons
rubber stamps
and more
Here's what one parent says about this box:
This box was full of fun projects with so many different options. We had a blast trying one of the projects today and Louie loved making his own stamp! I love that there are so many different projects and that I can just grab one of the kits when my son needs something to do.

Read what other parents say about this box. Click Here.

Art Lab Box
You might also be interested in the following posts:
Science experiment kits for preschoolers