They're cute and adorable and lots of kids love the color.
So why not get a pink cat costume for kids this Halloween?
We've featured white and black cat costumes and even rainbow-colored cats in another article. But how about a pink one this time? You can buy them ready-made or make one yourself!
GallyKids.com is a participant in the Amazon Services LLC Associates Program, an affiliate advertising program designed to provide a means for sites to earn advertising fees by advertising and linking to Amazon. This means we get a commission for any qualifying purchases. Tnx.
Pink Cat Costumes For A Toddler
Pink Cat Baby Costume
This is the cutest pink cat costume for babies. Just look at this.
How adorable! This Cheshire cat costume in pink and purple colors is the perfect one for babies and toddlers to wear.
This is a one-piece jump suit with an attached tail and hood which has the picture of a Cheshire cat.
Kids, especially the little ones, love this. A Very cute costume that's made of high-quality material and it's warm too.
Available Sizes: 6 – 12M, 12-18m, 18-24m, 18m/2t
Click Here to Buy Now Or Get More Info
Miss Kitty Toddler Girl Costume
Another popular kids costume for Halloween is a black and pink cat costume complete with the dress, boot cover, hood and mittens.
This is made of polyester velour with a tulle skirt which makes it look very ballerina-like! The hood, mitts and boot cover are made of faux fur.
This is one of the cutest pink cat costumes for toddler girls that I've seen. I especially like the cute tulle skirt to complete the look.
Note: The pink leggings are not included in this set.
Available sizes: 18m – 2T, 3T-4T
Click Here to Buy Now Or Get More Info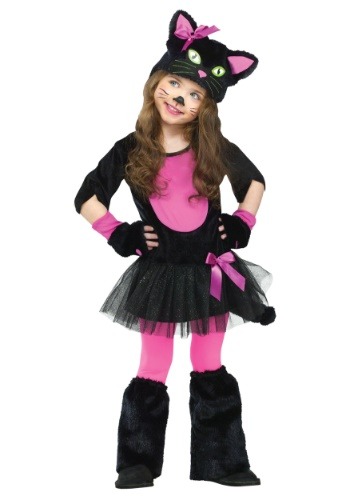 Miss Kitty Toddler Girls Costume
from: HalloweenCostumes.com
Cheshire Cat Costume For Older Kids
I love the look of this Cheshire cat costume. It looks perfectly catty and cheeky. And I'm sure kids would love wearing this too even when it's not Halloween
It is made of a one-piece body suit with very furry mitts, hood, tail and feet. If you buy one of these for your child, make sure you bookmark this page so you can also copy the face paint which really does complete the Cheshire-cat-look of this costume.
Available Sizes: Small, medium and large (click below to see the exact measurements)
Click Here to Buy Now Or Get More Info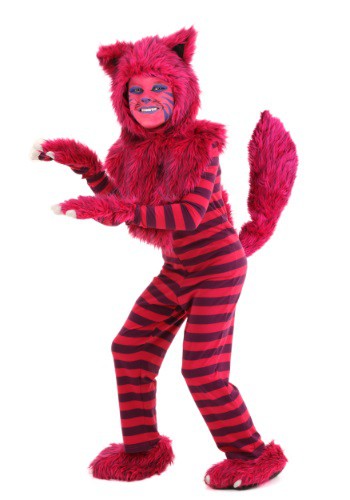 Child Deluxe Cheshire Cat Costume
Make Your Own Pink Cat Costumes For Kids
Would you rather make one at home? We've scoured the web to show you some ideas for adorable pink cat costumes that kids would love to wear for Halloween or pretend play. Some of them are very easy to make too.
DIY: How To Make A Pink Cat Costume: The Easiest Way To Do It
1. Use a pink top and leggings.
If your child doesn't have one yet, here are some cute ones we've found for toddlers!
The pink leggings:

Perhaps a Tutu dress is even cuter for this? This one is available for toddlers up to big girls:

Or maybe this striped one if you're going for the Cheshire cat look?
2. Make a pink skirt made of tulle.
If you're using a pink tutu dress, this is not necessary at all. You can easily make this. If not, here's a nice tulle skirt with glitter from Capezio
or this cheaper alternative from the Hair Bow company

3. Cat accessories: Making the Tail and Ears
You will need a wire hanger, a pink fuzzy cloth (instead of the black as shown in this tutorial) and some hair clips and you can make the tail and ears just like this one on the picture.
I like that it uses hair clips instead of a headband for the ears.
Pink Panther Costume
This tutorial is for the Panther look. But oh so cute it still is, right?
You will need sewing skills for this.
So for those of us who are not that great with sewing, you might want to skip this.
Before attempting to make this, make sure you have a pink pair of leggings and a pink shirt at hand.
Cheshire Cat Blue and Pink DIY
This as you can see from the image, needs some sewing. But boy does it turn out so nice.
The nice blue and pink stripes are made by cutting up strips of felt and then sewing them up together to follow this pattern.
This blog also comes with the sewing pattern you need to make this costume.
Looking For More Costume Ideas For Kids?
Minnie Mouse costumes
Tinkerbell Costumes
Zombie Costumes
Minecraft costumes
Snow white Halloween costumes
Poison Ivy Costumes
Astronaut costumes
Mad Hatter costumes
Butterfly costumes
Related Posts