Perhaps the most difficult part of choosing the perfect Wonder Woman costume for toddlers is trying to decide which of the many different designs to buy.
Should you go for the classic Lynda Carter look? Or the new Gal Gadot outfit in the 2017 Wonder woman version? And it doesn't stop there! There are even tutu-style costumes available too!
Anyway, in this Gally Kids article, I show you all the different styles so you can compare and decide which one is best for your toddler.
GallyKids.com is a participant in the Amazon Services LLC Associates Program, an affiliate advertising program designed to provide a means for sites to earn advertising fees by advertising and linking to Amazon. This means we get a commission for any qualifying purchases. Tnx.
The Best Wonder Woman Costumes For Toddlers
Toddler Wonder Woman Costume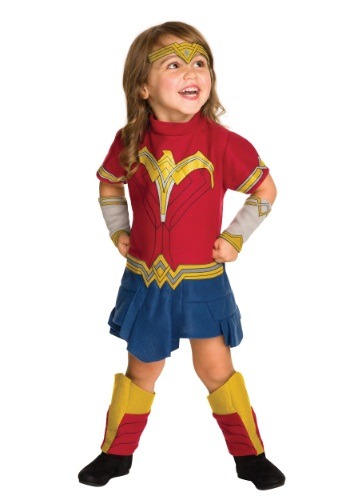 Toddler Wonder Woman Fleece Costume
from: HalloweenCostumes.com
It's not always easy to find a Wonder Woman costume that's specifically made for toddlers.
But this costume clearly states it is. So it comes first on this list. And what I like most about it is that you don't have to add accessories to complete the costume. It already includes the dress, gauntlets, tiara and the shin guard.
This costume is made in a soft-fleece material for your toddler to feel comfortable while wearing it. This costume comes in only one size with the following dimensions:
dress chest: 27″ – 28″
dress length: 21″
Wonder Woman Costume For Babies And Toddlers
Princess Paradise Wonder Costume
Here's another one that's made for toddlers and just as perfect for babies, too! In fact, the smallest size available is 0 – 6 months!
What's unique about this costume is that it includes a diaper cover. That's right! So even that little backside is all covered Wonder-Woman style.
The costume includes the dress, diaper cover, headband and wrist cuffs.
Sizes Available:
0 -6 months
2-18 months
18M/2T
Toddler Wonder Woman Costume With Cape And Boots
Rubies Wonder Woman Toddler Costume
How cute and adorable is this toddler Wonder Woman costume?
The cape and the boots are what makes this a unique and very realistic costume. Diana Prince would agree, don't you think?
This costume includes the dress, the head and wrist bands, a cape and the boot covers. The cape attaches to the shoulder part of the dress and the boot cover works using Velcro strips.
The only downside to this costume is that it's not available for very small toddlers. Apart from that, it should fit 2T, 3T and 4T sizes (refer to the sizing guide if in doubt). check it out!
Wonder Woman Costumes With Tutu For Toddlers
The Cutest Wonder Woman Costumes With Tutu
Tutu Wonder Woman costume for toddlers
Have a look at the tutu dresses above and you can't stop yourself from saying "awww!".
How adorable are the costumes, huh? I don't think your little one would want to take this costume off. And you're most likely going to take so many pictures (do send them to us so we can post them here!).
Wonder Woman Costume Accessories
The tutu dress above is enough to make a costume. But if you want to complete the Wonder Woman look, here are some accessories that a child may just want to be added to her costume.
A Few Things That Might Be of Some Help
For the foot wear, a pair of red boots/wellies.
If you have the time, you can easily make the head and wrist band using toilet paper rolls, craft paper and felt. Visit Foster2Forever for the instructions . And here's a printable tiara template
Toddler Wonder Woman Clothes
If you would rather buy a set of Wonder-woman inspired clothes that your toddler can wear not only for Halloween but for other special occasions too, then you might want to have a look at Wonder Woman clothe below.
Here are some PJs, rompers, leotards, cute t shirts, and dresses. These clothes don't look exactly like the Wonder Woman outfit in the movies, but they are very wearable. And ones that your kids can wear not just on Halloween or pretend play. I'm sure you'll find one that both you and your toddler love the look of.
Wonder Woman Toddler Dress 2T
DC Comics Wonder Woman Dressy Gown
This may look nothing like any of the Wonder Woman costumes, but look at how cute it is. And the good thing is that it's available in 2T size.
This is made of 100% polyester fabric and makes for a great night gown. But it can also be an everyday dress — as you'll find your toddler will not want to take it off.
Good quality nighty at an affordable price.
Onesie Pajamas
Wonder Woman Pull Over Night Gown
So who says you can't go treat or treating in Pajamas? Shoot two birds with one stone – a pajama for everyday wear and special costumes for Halloween.
This onesie also has a hood which has an image of Wonder Woman's tiara.
T-shirt With Cape
Just how original is this? A t-shirt with a cape? Yes, please. Available in sizes 2T, 3T, 4T and 5T
Wonder Woman Toddler Costume Cape Tee
DIY Wonder Woman Costume
There are many wonderful and amazing DIY tutorials on how to make your own Wonder Woman costume. If you have the talent, time and inclination, then this tutorial is well worth watching and following.
However, on this page, I've scoured the internet for no-fuss instructions on how to make your child's Wonder Woman costume.
If you do end up making one of these, we would love to see a picture of your creation. And we'll post it here too!
The Wonder Woman Tutu Dress
⚠️ This video has a long drawn-out introduction. Forward to mark 2:14 for the tutorial.
The making of this Wonder Woman tutu dress has three parts.
Wonder Woman's top using craft foam, gold and red fabric and a red tank top (you can also use a corset)
Skirt: Use any old (or cheap) blue short skirt. You can also make your child her own tutu skirt using tulle fabric and elastic band (check below)
The belt and tiara: Use foam, gold fabric and velcro
Video 2: Make Your Own Wonder Woman Tulle Skirt
This is easy to make. You can just make this, buy a Wonder Woman shirt with a cape, make the accessories and you're done.
Wonder Woman Tiara
Here's the easiest way to make Wonder Woman's tiara. It's the Lynda Carter version. All you need are craft paper [or sheets of foam paper(?)], empty toilet paper rolls, glue, string and glitter.
This video is not in English, but you should be able to see what you need to do by watching it (it's that easy!)
Which Wonder Woman Costume For Toddlers Do You Like Best?
Do you like any of the costumes featured on this page? Are you buying one of the costumes here or are you making it yourself?
Whichever you decide, do send us some pics, so we can post it here.
The Best Wonder Woman Costumes for Toddlers
Looking For More Halloween Costume Ideas For Kids?
Zombie Costumes
Tinkerbell Costumes
Minnie Mouse costumes
Minecraft costumes
Snow white Halloween costumes
Poison Ivy Costumes
Astronaut costumes
Mad Hatter costumes
Butterfly costumes
Cleopatra costumes
Cheshire cat costumes
Hot Wheels Racer Costume
Astronaut costume
Minecraft costume
Related Posts