This Halloween, the popular costumes seem to be superhero related. And isn't it only right for kids to want to wear an Owlette, Gecko or Catboy costume, the superheroes in the tv show PJ Masks?
GallyKids.com is a participant in the Amazon Services LLC Associates Program, an affiliate advertising program designed to provide a means for sites to earn advertising fees by advertising and linking to Amazon. This means we get a commission for any qualifying purchases. Tnx.
Here's the all-in-one suit for the Catboy costume. This includes the suit, headpiece and detachable tail.
But don't be limited by this. There are many other ways to put together a Catboy costume for Halloween or pretend play.
This outfit is available in the following sizes: toddler 2T , toddler 3t – 4T , Size 4 – 6, Extra-large: 7 – 8 (note: the gloves are not included in the set)
Glow In The Dark Alternative To The Catboy Halloween Costume
This costume looks very similar to the one above. But there's an added feature to this in that the costume glows in the dark! It also includes the gloves (same sizes as above except 7 – 8 is not available)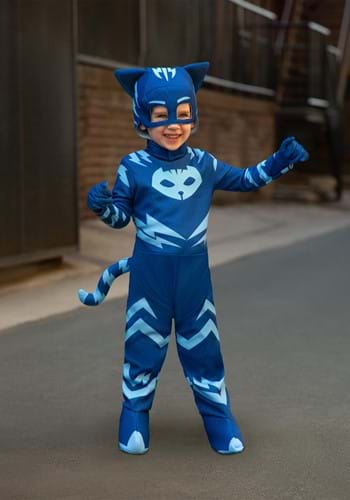 Deluxe PJ Masks Catboy Costume
from: HalloweenCostumes.com
Put A Catboy Costume Together
If you don't fancy the outfit above, you can put a few things together for a Catboy costume.
A Mask And A Cape Can Go A Long Way
Your son can wear a blue sweatshirt and sweatpants, put the mask and cape on and he can easily be Catboy. This is probably the easiest and affordable way to do it.
The cape is a reversible satin material and the mask is made of stiff felt.
This fits kids ages 3 -7 years old.
If you don't like the Cape, this mask looks good, too
It's not just a mask, mind you. It's a pair of sunglasses with UV 400 protection. Pretty cool, huh?
And this gets even better.
If you prefer to buy a Catboy costume that your child can also wear during regular days and not just on Halloween, you'd love this sweatshirt.
This is a hooded sweat-shirt fleece with cat ears. The hood also has a mask that can be pulled down when your child wants to.
Available in the following sizes: Toddler 2T, Toddler 3T, 4T and 5T

PJ Masks Catboy Toddler Hooded Costume Sweatshirt
Or how about a Pajama set?
After all, this is PJ Mask, right? They go out at night in their pajamas fighting villains!
It's only apt to wear pajamas for the costume. And the good thing is, they can wear this every day (er, night)!
Or perhaps your little one wants a costume with a tutu skirt?
Good news because that's available, too! It even looks so adorable.
This costume has satin cape with a logo and of course, the blue tutu skirt. The mask is also part of the set.
DIY: How To Make Catboy Costume PJ Masks
If the costumes above are not what you're looking for, you can always make one yourself. Here are a couple of video tutorials on how to make your own Catboy costume
Make A Catboy Mask
This is an easy one to make. All you need are glue gun, glue stick, blue foam sheets, and elastic strings.
This video tutorial is for all three PJ Masks characters: Catboy, Owlette and Gecko. Forward the video to mark 4:50 for the Catboy tutorial.
Make an outline of the mask on the foam sheet. Don't forget to add eyes. Cut the outline
Draw outline for the eyebrows in another foam sheet with a light blue color.
Glue the eyebrow on to the face mask.
Add depth to the ears using dark blue markers
Tie elastic string.
More Resources:
Pj Mask Printable: Go to the official PJ Mask website. Click create and you should see a few links to some PJ Mask-related DIY costume and crafts. On the page are printables for the Gecko, Owlette and Catboy masks. There are also some PDF instructions on how to make Catboy's tail, Gecko's gloves and Owlette's tail.
Note: I'm in Spain and I'm always redirected to this site to be able to download these printables: http://pjmasks.es/crea
I think the US version address is: pjmasks.com/make
If these addresses don't take you anywhere, then a Google search of Printable Pj masks should get you to the right site. Make sure you click the pjmasks.com site.
Pin It For Later!
Looking For More Halloween Costume Ideas For Kids?
Tinkerbell Costumes
Minnie Mouse costumes
Minecraft costumes
Snow white Halloween costumes
Poison Ivy Costumes
Astronaut costumes
Mad Hatter costumes
Butterfly costumes
Cleopatra costumes
Cheshire cat costumes
Hot Wheels Racer Costume
Astronaut costume
Minecraft costume
Related Posts